President: Kathi Pickett
Email: hudsonsbaybranchaauw@gmail.com
Branch members come from a variety of professions and live in all parts of Clark County.
Membership Inquiries: Kathy at kathy.b.friends@gmail.com. Please check us out!
Meetings:   2nd Wednesday of the month from 2-4 pm via Zoom; open to the public.
Dues: $100 per annum (includes state and national dues)
A sampling of what members get from the branch:
community awareness
friendship
opportunity to serve
acceptance
intellectual stimulation
mentoring
PUBLIC POLICY
Branch delegation to annual Lobby Day in Olympia
Participation in AAUW-WA Public Policy programs
FUNDRAISING
No public fundraising
Branch contributions to AAUW Funds (Educational Foundation and Legal Advocacy)
MEMBER ACTIVITIES
Monthly meeting includes a short program or a business meeting, plus time for networking
Real University Book Group (monthly) – all read the same book, then discuss.
Our book group began in September 1975.  After members read Zen and the Art of Motorcycle Maintenance, that book's title was adopted as the group's name. The book's idea is that life is the real university educating a person.
2022 Titles
January 26:  A Beginner's Guide to America by Roya Hakakian AND
                      Funny in Farsi by Firoozeh Dumas
February 23:  Last Bus to Wisdom by Ivan Doig
March 30:  When Women Invented Television by Jennifer Keishin Armstrong
April 27:  The Thursday Murder Club by Richard Osman
May 25:  Quiet: The Power of Introverts in a World That Can't Stop Talking by Susan Cain
June 29:  The Spirit Woman by Margaret Coel
July 27:  Nomadland – Surviving America in the Twenty-First Century by Jessica Bruder
August 31:  A Wolf at the Schoolhouse Door by Jack Schneider and Jennifer Berkshire
September 28:  The World:  A Brief Introduction by Richard Haass
October 26:  The Dictionary of Lost Words by Pip Williams
[No meeting in November]
December 7:  A Gentleman in Moscow by Amor Towles
SOCIAL EVENTS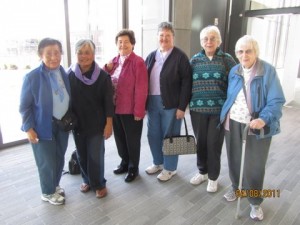 – Vagabonds – informal day excursions to local points of interest
– Annual potluck picnic
LOCAL SCHOLARSHIPS
Funds from an endowment at Clark College are distributed annually to 5-10 recipients: women returning to school, perhaps in college for the first time, or continuing a college program that was interrupted by marriage, children, or other factors. Applications available from the Clark College Financial Aid office and online at clark.edu/scholarships.